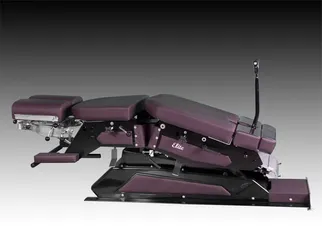 Flexion-Distraction is an excellent technique for the treatment of middle and low back pain. It is a gentle and extremely effective technique that helps to decompress the spine and remove pressure on the vertebral disc. In addition it restores range of motion to the spine and realigns the vertebrae.

Dr. Ron DeLanzo applies this technique for the treatment of:
Bulging or herniated discs
Myofacial Pain
Numbness or tingling
Osteoarthritis or degeneration of the spine
Radiculitis or nerve pain
Sciatica
Spinal stenosis
Scoliosis
Flexion-distraction technique has become the most widely used approach to treating symptomatic disc injuries involving back pain and the often-accompanying leg pain. Flexion-distraction involves the use of a specialized table that gently distracts or stretches the spine and which allows the chiropractor to isolate the area of disc involvement while slightly flexing the spine in a pumping rhythm. There is no pain involved in the treatment.
Theoretically, the tractioning or distraction of the disc combined with isolation and gentle pumping of the involved area allows the central area of the disc, the nucleus pulposus, to assume its central position in the disc. Flexion-distraction is thought to improve disc height.
Flexion-distraction is the treatment of choice for those patients suffering with back pain. Most patients experience relief after 3 to 5 treatments. The treatments are comfortable and performed on a fully adjustable ergonomic table that can be fit to all body types including pregnant woman. Flexion-distraction should be considered for those whose pain has not responded to other types of care... this treatment can make all the difference in removing and managing your pain.